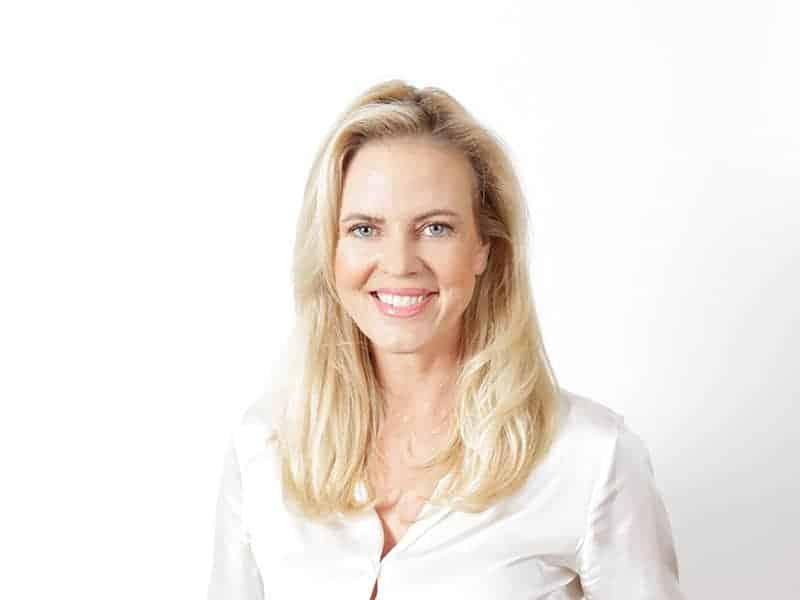 After studying arts in New York City, Anke Schaffelhuber graduated in Business Administration with a major in marketing in Munich. After six years of PR management at the internationally renowned fashion house Willy Bogner GmbH & Co. KGa.A, Anke took over the PR management for Wilderness Safaris, to establish the company on the German market. In January 2006 Anke Schaffelhuber created her own agency named Schaffelhuber Communications, taking care of clients in the luxury market. As a travel soul and expert voyager, Anke travels the world and draws inspiration for creative PR concepts from exposure to foreign cultures and from diverse nature phenomena. Her second passion is photography, which she developed even further during her many travels. Ever since, Anke Schaffelhuber created a new perspective on the beauty of our endangered world through her Fine Art Photography.
Christine already gained lots of PR experiences during her studies in political science and communication science and discovered her passion for writing texts back then. She could use these skills in the PR departments of several NGOs and after a traineeship in journalism for some years in the press office of the city of Fulda. As she likes to work in an international environment, she has lived and worked in the US and Australia for several months. Since 2016 she lives in the beautiful city of Munich and implements creative PR ideas for startups, online portals, search engines and different tourism clients. When she is not travelling around the world, she relaxes by reading a good book or watching a new TV series.
Sina has started her PR experience in the fashion industry and managed well-known high-end fashion labels for several years. An internationally renowned online shop as a customer gave her insights into the beauty sector. She discovered her passion for traveling during her five-month trip through Southeast Asia. Since then she has not left any opportunity to explore the world. No wonder that tourism PR has now become her home. Sina has a particularly personal connection to South Africa: There she lived with a family in the township and worked for an organization for a month. Her sociability and open manner ensure that she has always enjoyed working in gastronomy. She also managed a restaurant for a year. Despite the constant wanderlust, the native of Nuremberg is happy in her chosen home Munich - whether in the English Garden, by the lake or on hiking trails and ski areas in the surrounding area, Sina is mostly on the move in her free time.
Petra has been working in the travel & tourism industry for around 20 years. She has worked on numerous accounts for various agencies and has built up a solid network. She worked for Dubai Tourism, Visit Finland, Tourism Australia, Cook Islands Tourism, Singapore Tourism Board, Banyan Tree Hotels & Resorts, The Slate Phuket and Corinthia Hotels. Personally, she loves travelling, foreign cultures and traditions, culinary specialties and the people who shape and form a country. International life and a cosmopolitan lifestyle are important to her. Whether it's Californian vibes around Los Angeles or tented saunas in Finland - the exciting thing about this job is always gaining new experiences and getting to know lots of people and - after all these years - simply feeling at home in this industry. Her path to PR led her via a degree in English and German studies and work as an editor.
Already during her studies of business administration Stefanie discovered her love for PR. After graduating she decided to move to Munich and turn her passion for communication into her profession. In Munich she worked for more than seven years in renowned PR agencies for international fashion and luxury brands and built up a large media network. The native of Nuremberg has always found the perfect balance in travelling. Today she likes to discover the world together with her own small family and combine her passion for foreign countries with her dream job.
Iris lives luxury tourism and above all the High-end hotel trade for more than 20 years. In her varied career she has already looked after the most renowned hotels, luxury resorts and hotel companies. Parallel to this, she is well versed in the fields of events, lifestyle, and beauty. She has organized major events and exciting incentives for Gruner & Jahr, BMW or the Bavarian State Government, for example. Many creative event concepts originate from her pen. Because writing and storytelling are her passion. Her specialist training as a non-medical practitioner for psychotherapy and relaxation therapist helps her to empathize with people, topics, and situations and to develop targeted strategies. In her free time, Iris likes to spend time with her dog in nature. For her, this is the ideal compensation for her active PR day.
Christine has been successfully doing press work for various clients and events for the past 20 years. She started her PR journey in the culture segment working in the press office of the Deutsche Theater (German Theatre), for whom she coordinated many creative and exciting press events. After that, she worked for the well-known communication and event agency Edition Sportiva for ten years. As communication manager, she was responsible for all media and celebrity events. Through her previous occupation, she brings with her a great network of celebrities, long-standing contacts with journalists, VIP´s, influencers and opinion leaders. Finding her passion for tourism over the past few years, she brings her wide knowledge of influencer and celebrity marketing as well as traditional PR with her. In her private time, Christine enjoys traveling and lots of fun activities with her family.
Andrea has been working in advertising and PR for more than 30 years. After her training as an advertising clerk in a full-service agency, she worked for a TV station for many years where she was responsible for key customers. Afterwards she worked for a mineral oil company before starting at a Publishing House. Andrea built up the international press department of the Publishing Group and organized the worldwide PR for some well-known photographers and authors as well as for many book titles from the luxury and hotel sector. In addition to the placement of book reviews, she organized interviews as well as radio and TV appearances. Thanks to her many years of experience in PR, she has a broad network in the international media. In her leisure time she likes to be on tour with her four dogs. You can meet her in a self-converted caravan on the Dutch North Sea or in Brittany. Sustainability plays a big role for Andrea – her dogs are even testing vegan meals at the moment.
Detlev has more than 20 years' experience in technology PR. During his studies in Berlin, he worked in various editorial offices of the public radio and TV before in 1999 finally moving to Munich and joining a European PR agency specializing in technology. His passion was and still is the IT trade fairs of this world, which – as you can imagine – he is sorely missing now. This hobbyhorse has led him, among other things, to build up a widely ramified network of German and international editors of the daily, business and trade press. In our team, he is the expert for everything to do with hardware, software, and IT services. The native Transylvanian likes to spend his free time on the golf course, skiing or playing the piano.
During her Master studies in International Management, Laura gained important experience abroad, whether through an internship in Shanghai or a semester abroad in London. Due to her previous employment, she was able to acquire basic knowledge in event and project management. Through the organization and supervision of various luxury and lifestyle events, including an evening at a Swiss luxury jeweler, Laura was able to gain valuable insights from which she also benefits in the PR area. Born in Munich, Laura loves to get to know new countries and cultures and has now the opportunity to combine her passion for travel with her work in tourism PR.
Katharina's first word, after "Mama", was "outside". She has always been drawn to the world. Travel, foreign cultures and contact with a wide variety of people have always fascinated and inspired her. After studying tourism and hotel management, she landed directly at the luxury hotel chain Hyatt Hotels & Resorts, followed by exciting years at American Express as Lifestyle & Event Manager for the Premium Cards Platinum and Centurion. Because she missed the international tourism world, she decided to make a change and started as PR Manager at an agency specialized in tourism in Frankfurt, Germany. She found a dream job working for beautiful Namibia, the city of Vienna and a luxury hotel in the Maldives. In the meantime, she supports the North Sea Island Juist and is enthusiastic to work under Schaffelhuber Communications for Wilderness Safaris. Katharina loves to spin ideas and try out new approaches, is a trained yoga teacher and teacher trainer as well as a coach for an "easy crazy happy" lifestyle.
Carina is our PR Account Support. She is studying PR and Communication in her first semester and is keen to dive into the working world of PR agencies. She was able to gain first experiences in marketing and event management during an internship in an international cosmetics company, as well as with an Italian sustainable fashion designer. Then she was able to build up knowledge in the media world, in metadata and content management. She loves traveling, languages and cultures, so the tourism industry fascinates her a lot. Carina grew up in a small village near Siena, in southern Tuscany. "Bagno Vignoni" is part of the UNESCO World Heritage Site and is therefore a popular tourist destination. So, she was strongly influenced by tourism already in her childhood. She is happy to be accompanied through her studies together with Schaffelhuber Communications and to gain experience in the field of PR and tourism.
Born and raised in Fürstenfeldbruck near Munich, Samuele was always passionate about traveling to discover the various cultures the world has to offer. After graduating high school in 2019, he decided to explore the other half of his roots and stayed in Sri Lanka for a longer period. During his stay he traveled the island to understand the Sri Lankan way of life and its traditions. Growing up bilingually, it further encouraged him to learn new languages to understand the culture better. His creative nature helps him when writing texts and creating social media content. Since October 2020, Samuele has been studying business administration at the University of Augsburg. To not fall into a monotonous lifestyle, Samuele likes to keep busy with his hobbies that are comprised of art, sports, music, and acting jobs. It is important to him to always be friendly towards others. He likes to learn new skills and is a team player.
Already during her studies of media and communication sciences Edith knew that her professional home should be PR and worked afterwards in different agencies of the tourism, film and culture industry. Edith herself gained editorial experience while working for a Munich lifestyle magazine. At Schaffelhuber Communications in 2013 she discovered her passion for the lifestyle of southern Africa and at the same time her fondness for sustainable topics and tourism. When she's not immersed in the world of culinary delights, Edith lives for nature and the mountains in her free time: freeriding, mountain biking, running - not even after four months of sabbatical has she got enough of it and is on tour in every free minute.
Due to her longstanding experience as a journalist and columnist for TV and Press, Natascha has superior knowledge for media possibilities and editorial processes. She also is an expert storyteller. During her studies in political science and communications, she built a vast media network. In her spare time, Natascha travels the world by ship or plane with her dog Minou. Her job as PR manager, her passion for travelling and love for writing is all joined together and make her a successful author of belletristic novels. Natascha is currently on her parental leave.
With her master's degree in European Ethnology, Italian Literature and Sociology, Claudia is predestinated for some of the most beautiful things life has to offer: travel and Italian lyrics. After two years in the U.S. and Italy, she did research on the effects of emotions at the workplace, the flexible and mobile lifes of nowadays as well as various tourism phenomena. She finally ended up in public relations for sustainable sport brands and lifestyle products, before joining Schaffelhuber Communications, where she is specialized in luxurious hotels, economic topics and sustainability.